Food forests are permaculture gardens consisting of a diversity of edible perennials. Up until recently, they've mainly been incorporated into backyard gardens and small-scale farms. In this article, find out how two urban community food forests are shaking up the local food movement in their respective cities.
Gathering Plaza of Beacon Food Forest in Seattle, WA (Image courtesy Nicky Schauder)
This page may contain affiliate links. Please read my disclosure for more info.
The following article was written by Nicky Schauder of Permaculture Gardens.
Nicky and I connected a few years ago when I was in the process of publishing my book. She wrote to tell me about how my articles on swale building had influenced their development of swales at both her home and at a local school where she and her husband run a permaculture garden.
They used the swale concept to creatively solve distinctive water problems on each of those sites. Consequently, I included photos of their super-cool projects in my book, and I'm happy to continue following their adventures in permaculture.
I believe urban food forests are an important step in reclaiming public spaces for regenerative food production.
Therefore, I'm grateful to Nicky for sharing the following two examples of community food forests that are meeting the unique needs of both human residents and the local ecology. — Amy
What does permaculture in the city look like?
My family and I recently explored some community food forests while traveling to the west coast of the United States. They are living proof that we can apply permaculture principles to urban settings as well as large-scale farms.
The two food forests that I feature below have a similar way in which they carry out the three ethics of permaculture.
Permaculture Ethics
Earth Care – Steward the earth and its natural resources. For example, Native Americans live by the principle that in every decision, they must consider how it will affect seven generations into the future. We can care for the earth by building resilient, regenerative systems and using what we have wisely.
People Care – Nourish, educate and protect people. For example, this ethic opposes the way that some large-scale farms exploit migrant workers. Instead of relying on big corporations with vested interests, we can create sustainable agricultural systems and live more independently.
Fair Share – Share surpluses.
Sherrett Food Forest in Portland, Oregon
Permaculture Origins of Sherrett Food Forest
The Sherrett Food Forest is located on a 0.68-acre parcel of land near the border of Portland and Milwaukie, Oregon, and is an initiative started by students of Toby Hemenway, author of Gaia's Garden and The Permaculture City.
Melissa Manuel and Teague Cullen first discovered permaculture after reading Gaia's Garden. A few years later, Manuel attended a Permaculture Design Course (PDC) overseen by Hemenway.
>>> Looking for a PDC? Learn how to select the right course for you.
In 2016, the city of Portland Bureau of Planning and Sustainability put out a call for farmers to maintain a perennial food production system in accordance with the city's Climate Action Plan.
Manuel submitted a proposal and was awarded a long-term lease to farm Sherrett Street's empty parking lot together with Cullen.
Initially, the Sherrett Food Forest property was a barren piece of public land surrounded by black walnut trees. Now it's teeming with abundant fruit guilds, vegetables, flowers, and life!
Earth Care at Sherrett Food Forest
Let's take a virtual tour.
Enter the food forest by a simple shed, a gate flanked by artichokes, and an arch covered in grapevines. Straight ahead a central path connects two sides of the garden.
Annual Plants
A dizzying variety of flowers, vegetable patches, and plant trials dominates the right side of the garden. This is primarily where the Winslow CSA (Community Supported Agriculture) produce comes from.
Trellises organize the gardens, which include drip lines for irrigation, and intensively planted beds that save space and reduce weeding.
The vegetable rows are interplanted with herbs and flowers. These intentional polycultures confuse pests, increase yields, and make their market gardens more resilient to disease. The main way of dealing with pests is through natural predators, pollinator helpers, confusers, and perhaps some manual assistance.
>>> Learn how to prevent garden pests naturally in the permaculture garden.
Want to grow fruits, vegetables, and herbs in your front yard landscape without sacrificing curb appeal? Check out my ebook, The Permaculture Inspired Edible Landscape.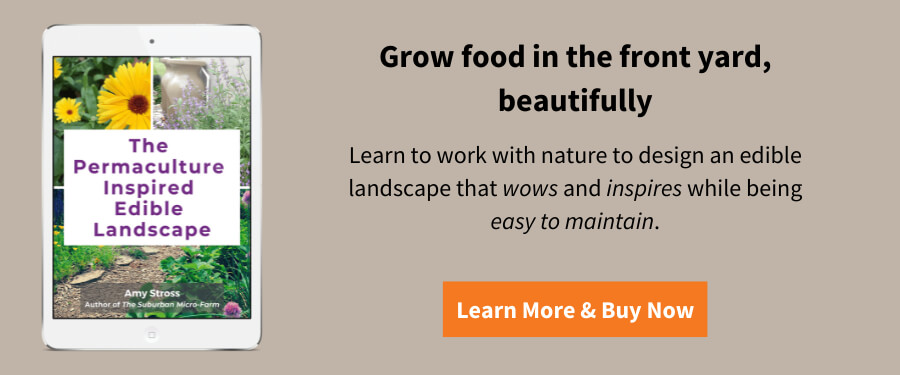 Perennial Plants
To the left of the path, you see several berry bushes such as sea buckthorn and raspberries. And, of course, you see the beginnings of fruit tree guilds.
The trees that dominate the background, however, are very productive black walnuts.
Many farmers and gardeners think of juglone-containing black walnut trees as toxic to vegetable crops. This hasn't stopped Manuel and Cullen's food forest from thriving, however.
They've learned how to create buffer zones with Jerusalem artichokes, which have healthy tubers favored by Portland chefs. They sell the prolific tubers to local restaurants.
Manuel has a passion for finding and cultivating fruit tree guilds. "When visitors first learn about food forests," she says, "what strikes them the most is realizing the important functions of elements in a permaculture guild."
>>> Learn how to build fruit tree guilds.
People Care at Sherrett Food Forest
Since November of 2016, Sherrett Food Forest has provided a community-supported agriculture (CSA) program (which runs from June-October), landscape design services, and garden events.
Below are some ways in which they engage the community:
Children's Garden Storytime
They offer children ages 3-5 an opportunity to learn to read in a garden nook. Many studies have cited the benefits of children learning in the outdoors.
Saturday Work Parties & Garden Tours
Every third Saturday of the month, there is a work party for volunteers to help with seasonal tasks such as pruning, mulching, weeding, and composting.
They also offer tours to neighbors who would like to replicate the success of their CSA gardens.
Bringing Childhood Farming Memories to the City
When asked what got her into urban permaculture, Manuel replies, "I became interested in farming because my great-great-grandmother, Clara, was a farmer in Illinois and she lived to be a hundred and six. She was very positive and healthy her whole life so I thought that was something connected to the way she lived. My other grandmother, Dorothy, was an awesome gardener as well."
Fair Share at Sherrett Food Forest
The Sherrett Food Forest brings together the local Portland/Milwaukee community by offering free events. They accept SNAP for their CSA shares and donate a few shares every year.
Neighbors can pass through on their bikes, picking grapes along the way.
Would you like to learn more about using permaculture techniques and strategies for ecological food production?
You'll find loads of information just like this in my award-winning book, The Suburban Micro-Farm.

Beacon Food Forest in Seattle, Washington
Permaculture Origins of Beacon Food Forest
The Beacon Food Forest sits on Beacon Hill, which is land owned by Seattle's Public Utilities (SPU). It is the result of four PDC students' final permaculture design. A 72-hour PDC culminates in a drawn-out design of a property using permaculture methods and principles learned in the course.
A landscape architect took the Seattle students' initial drawings and drew them to scale. Later, they presented the design plan to the SPU as well as other stakeholders in the area.
Currently, the Seattle Department of Neighborhoods and the Bullitt Foundation sponsors Beacon Food Forest, which employs one part-time staff member and includes an organized team of volunteers.
The initial vision for Beacon was a 7-acre food forest. Currently, 1.75 acres of that design has been implemented. These portions of the property are already in their 7th year! Looking at the established part of the garden can trick you into thinking that this food forest is complete.
Learn more about Beacon Food Forest on their website.
Earth Care at Beacon Food Forest
Let's take a virtual tour.
Walking in from the parking lot, edible hedges, rugosa roses, and yarrow line the path.
A shed with a sign frames a sort of living room for the garden. It also serves as an area for tool storage, food preparation, and the stage for performances or classes. This humble shed stacks several functions!
The first permaculture structure you notice is an herb spiral that doubles as a place to sit.
Most of the paths run in circles surrounding guilds, such as an herb garden that circles around and leads to a pear guild. Continuing along the herb garden you come to the straight-ish rows of vegetables.
The annual vegetable beds here are on a flat-ish piece of land that is a slope terraced with retaining walls.
The Beacon Food Forest design tries to maximize the edges in a small space. As such, many of the 2,000 square feet of communal vegetable garden plots or paths are curved instead of being straight. Beyond the vegetable beds, there is an edible hedge with "door" pathways, that acts as a screen from street traffic as well as an exit through to a Pacific Northwest native plant guild.
>>> Learn more about edible hedgerows.
When we toured the food forest in the summer of 2019, it also contained:
several berry patches
rock-mulched paths
on-site beehives
irrigation piping
Beacon's Future Plans
In 2018, volunteers began work on Phase 2 of their overall plan, which includes:
an orchard
community gardening plots
a community gathering and education place
The volunteers have achieved most of the earthworks planned for this second phase, and will begin cultivating the soil in this new area in fall/winter 2019.
People Care at Beacon Food Forest
"The goal of the Beacon Food Forest is to bring the richly diverse community together by fostering a Permaculture Tree Guild approach to urban farming and land stewardship. By building a community around sharing food with the public we hope to be inclusive to all in need of food." (from the Beacon Food Forest Website).
Anyone can harvest from the site, regardless of whether they have helped grow the food.
Every third Saturday of the month is a Work Party. Volunteers help with tasks such as composting, weeding, planting, clearing, and mulching. Afterward, the Food and Nutrition Team puts together work lunches for the 80-100 volunteers using ingredients from the food forest, donations from a local bakery and cafe, and potluck dishes contributed by volunteers.
>>> Learn about a community food forest in Cincinnati, Ohio.
Fair Share at Beacon Food Forest
When we visited, I saw a homeless man resting, a volunteer pruning bushes, some bicyclists, and a mother walking with her son. It has become a crossroads for the community.
An area of the Beacon Food Forest that exemplifies "Fair Share" is the Helix Giving Garden. Their annual report states that in the summer of 2018 their local guests harvested "1,380 pounds of vegetables from the two thousand square foot garden… The Helix demonstrates that shared abundance rather than competitive scarcity can be part of the global movement for regenerative agriculture and economics."
Conclusion
At its core, permaculture is based on lasting principles, "permanent principles". It is not merely a collection of organic growing methods. In the words of Bill Mollison himself, "Permaculture…is a persistent system that supports human existence."
And we should not expect it to look the same everywhere we go.
Permaculture principles like "catching and storing energy," and "doing what we can with what we have", and so on, are uniquely applied in a city permaculture landscape design.
In urban permaculture, we may not have or need swales lined with trees, but we can have small irrigation channels. Our designs may need more noise and traffic screens than in the country. They may require more commonly shared gathering spaces.
Human population is densest in urban areas. Therefore, permaculture cityscapes have the largest potential for impact on society, culture, and the environment.
Since Seattle's Beacon Hill project was created—and perhaps because of it—urban permaculture appears to be spreading. There are now several food forests being established around the US, and the list keeps growing! Do a quick google search to find food forests in your city or state.
Food forests are a great way to bring permaculture to our cities and to encourage participation in local food movements.
Are you growing a community food forest or participating in one?
Read Next:
About the Author
Nicky Schauder, together with her husband Dave, runs Permaculture Gardens at www.GrowMyOwnFood.com. This website is filled with garden resources such as free webinars, educational blogs and "Grow-It-Yourself/GIY" – a monthly guided garden program to help homeowners grow an abundant harvest!
In 2017, Permaculture Gardens won the grand prize at the Green Festivals in Washington DC for "Most Innovative Sustainable Brand." The Schauders' work has been featured in the Huffington Post, Permaculture Research Institute – Australia and GreenAmerica.org.
They also volunteer at their local Title 1 school and started a permaculture garden after-school program for the elementary kids there.