June is finally here and it's time to hang out in the garden! Flowers are blooming, abundant rains keep everything green and perky, pests are at a minimum, and the harvests are rolling in. In this June Garden Guide, I share ideas for keeping your harvesting, planning, and garden maintenance tasks on track.
This page may contain affiliate links. Please read my disclosure for more info.
We spent a lot of time weeding, planting, and harvesting spring crops in May. This month, we delight in being outdoors surrounded by beauty and abundance.
Click here to see my Year-Round Gardening Calendar.
Remember, these June garden tasks are based on my gardening in USDA hardiness zone 6a. You may need to make adjustments for your climate.
1. June Harvest
Your most important task in June is to harvest and use what you've already grown!
If you've got tomatoes and peppers to get in the ground but your herbs are bursting with freshness, pick the herbs. There's no need to panic—you can plant your tomatoes and other warm-season vegetables through mid-June!
Harvesting Cool Weather Crops in June
Beets (Don't forget to harvest and use the greens!)
Brassicas

Cauliflower
Collards
Kale
Kohlrabi
Radishes
Turnips (Greens are super tasty, too.)

Garlic (Learn when to harvest and how to store garlic).
Lettuce
Onions (Cure for 2 weeks before storing.)
Potatoes (Also cure for 2 weeks before storing.)
Peas
Spinach
Swiss chard
Grow a garden that's both productive and manageable with my Complete Garden Planning System, which includes practical tools for planning your season from seed to harvest.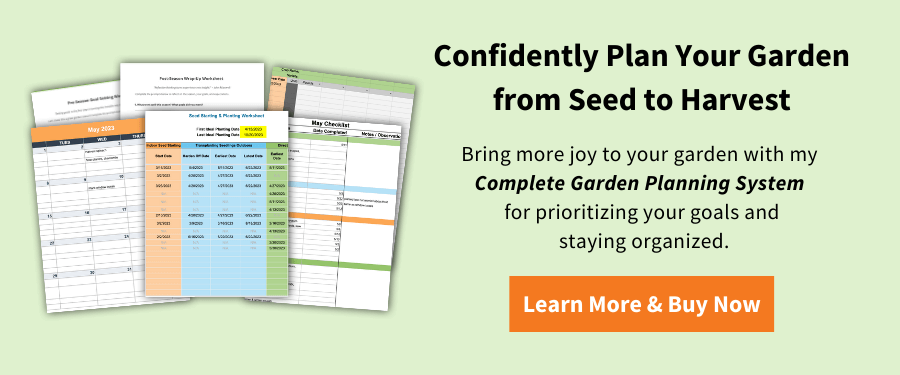 Harvesting Herbs in June
Basil
Calendula (Harvest some blooms and use to make a healing oil.)
Chamomile
Chives
Cilantro
Dill
Echinacea
Fennel
Marjoram
Oregano
Parsley
Sage
Sunflower sprouts
Sweet alyssum
Harvesting Perennial Crops in June
Asparagus
Black raspberries
Cherries
Currants
Rhubarb
Strawberries
Sidebar: The strawberries are rolling in! Did you know you can make jam from frozen fruit? I get the fruit in the freezer and save jam making for the fall when it starts getting dark outside super early. Making jam is an anti-seasonal affective disorder activity!
2. June Garden Planning
June is one of the busiest months for gardeners. In addition to harvesting, I'm also starting fall seeds inside, sowing seeds outside, and planting seedlings. Don't forget I'm gardening in USDA hardiness zone 6a—you may need to make adjustments for your climate.
Starting Seeds Under Grow Lights in June
We've just started harvesting summer crops but it's already time to start fall crops! Check out my guide to starting seeds indoors. If you need to purchase seed starting materials, check out my Amazon shop.
Sowing Seeds Outside in June
There are plenty of herbs and veggies you can direct sow in June. Gardening doesn't get much easier than this!
Herbs
Legumes: (Tip: give them the perfect trellis!)
Beet family crops:
Cabbage family crops:

Broccoli
Brussels sprouts
Cabbage
Collards
Kale
Kohlrabi (Purple kohlrabi looks great in an edible landscape!)
Radish
Rutabaga
Turnips

Carrots (Here are my tips for growing carrots year-round.)
Corn
Cucurbit family crops:
Lettuce
Planting Outside
June is the perfect month to plant a variety of vegetables outdoors, whether you're transplanting homegrown seedlings or seedlings you purchased from your local garden store or farmer's market.
Cabbage family:
Celery
Nightshade family:

Eggplant
Peppers
Potatoes
Tomatoes

Allium family:
Lettuce
Okra
Sweet potato slips
3. June Garden Maintenance
While harvesting takes priority in June, here are some of the maintenance tasks I also like to focus on.
Mulching & Weeding
Pruning
If you're growing black raspberries, this is a great time to train and prune them.
Be sure to prune suckers from indeterminate tomatoes.
What's going on in your garden? I hope you'll take a break and enjoy it!
READ NEXT: