I love the month of April! Glimpses of green life pop up in the form of garlic stalks, which handle the unpredictable spring weather with fortitude, or daffodils blooming in the garden. In this April Garden Guide, I share some ideas for prioritizing seed starting, planting seedlings, garden maintenance, and more.
This page may contain affiliate links. Please read my disclosure for more info.
In the March Garden Guide, I discussed starting seedlings and a bunch of other fun stuff. In April, I'll continue my careful watch over the seedlings I've already started inside. Meanwhile, the weather outside will dictate opportunities for sowing and transplanting in the garden.
Click here to see my Year-Round Gardening Calendar.
Remember, these April garden tasks are based on my gardening in USDA hardiness zone 6b. You may need to make adjustments for your climate. See below under 'Garden Planning' for more ways to adjust this schedule for your needs.
1. April Harvest
Crops that were sown in early fall, covered by row cover, cold frame, hoop house, greenhouse, or some other kind of protection, can be harvested in early spring. Depending on your hardiness zone, you may also be harvesting other early spring crops and herbs fresh from the garden.
Here is what I harvest in April:
My broccoli seedlings look so good I could eat them right now! Patience you must have, young padawan. The harvest will outweigh a seedling snack!
2. April Garden Planning
Weather dictates actions more than annual calendars. Some years I'm waiting until the snow melts to do a lot of these items, while other years Mother Nature gives me the green light early. Whether you want to start seeds indoors or sow seeds outdoors, this spring guide covers planting times for 30 popular crops.
Don't forget I'm gardening in USDA hardiness zone 6b – you may need to make adjustments for your climate.
Grow a garden that's both productive and manageable with my Complete Garden Planning System, which includes practical tools for planning your season from seed to harvest.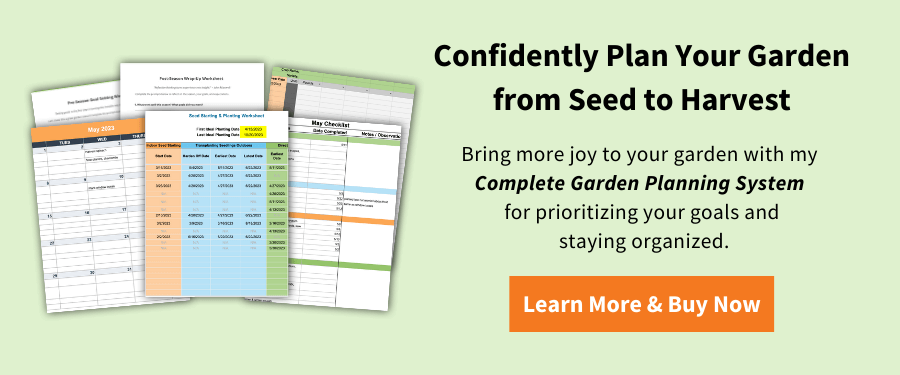 Starting Seeds Under Grow Lights in April
The following seeds can be started indoors. For details about starting seeds indoors, see my step-by-step guide. If you need to purchase seed starting materials, check out my Amazon shop.
Sowing Seeds Outside in April
Sow the following seeds, which can cope with the early spring weather.
Planting Outside in April
Outdoor planting ramps up in April! Here's what I like to plant this month.
3. April Garden Maintenance
Here are a few things to make time for this month.
Storing Winter Gardening Implements
Building Infrastructure
Pruning Perennials
Improving Soil Fertility
It's the perfect time of year to improve the quality of your soil.
Set your garden up for success by adding soil amendments like finished compost, worm castings, fresh or dried herbs, or aged manure to inactive gardens with a digging fork. Here are 9 organic amendments that I recommend.
But first, beware! Compost and manure are commonly contaminated with herbicides, even if you don't use herbicides in your yard or buy only organic approved compost soil.
Apply soil amendments responsibly to protect local watersheds. Never apply them to frozen ground, over-saturated ground, or right before a large rain event.
I'm so excited to get my seedlings in the ground. How about you? What are you most excited about this month?
READ NEXT: