May is a busy month for gardeners! Are you feeling overwhelmed with everything you want to accomplish in the garden?
This page may contain affiliate links. Please read my disclosure for more info.
In this May Garden Guide, I share some ideas for how to prioritize planting, weeding, watering, and more.
Be sure May isn't all about work, however. Here at Tenth Acre Farm, we try to take some time to enjoy the beautiful weather before the heat and mosquitoes return.
In the April garden, weather dictated small windows of time for sowing and transplanting. The symbol for May, however, is the busy bee!
Remember, these May garden tasks are based on my gardening in USDA hardiness zone 6a. You may need to make adjustments for your climate. See below under 'May Garden Planning' for more ways to adjust this schedule for your needs.
1. May Harvest
Though you might have seedlings to plant, seeds to sow, and weeds to pick, your most important task is to harvest and use what you've already grown.
Remember, THIS IS SUPPOSED TO SAVE YOU MONEY!
If you've got tomatoes and peppers to get in the ground but your herbs are bursting with freshness, pick the herbs. They go for premium pricing in stores and at farmers markets, and you have them growing for very little trouble.
Therefore, pick the low maintenance, high value crops. Then figure out how to process and use what you've picked. Plus, you can plant your tomatoes until mid-June. No need to panic 🙂
Harvesting Cool Weather Crops in May
Grow a garden that's both productive and manageable with my Complete Garden Planning System, which includes practical tools for planning your season from seed to harvest.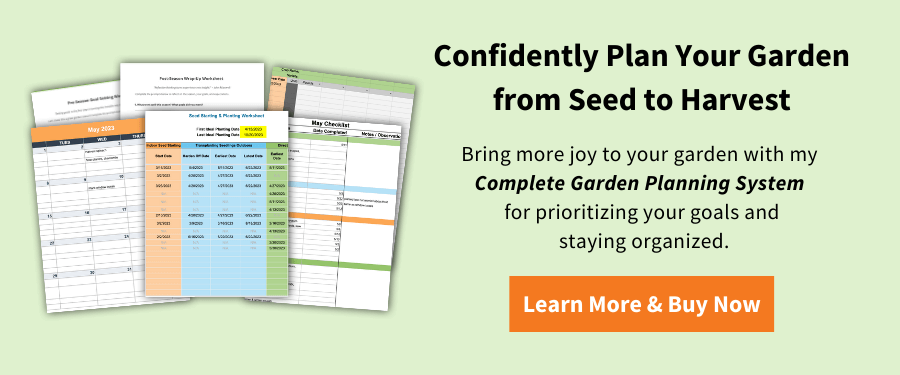 Harvesting Perennial Crops in May
Asparagus
Rhubarb
Strawberries
Harvesting Herbs in May
Chamomile
Chives
Dill
Echinacea
Fennel
Garlic scapes
Marjoram
Oregano
Parsley
Sage
2. May Garden Planning
There's so much to do in May! In addition to harvesting, I'm also starting seeds inside, sowing seeds outside, and planting seedlings. Not sure when to start seeds? This spring guide covers planting times for 30 popular crops. Don't forget I'm gardening in USDA hardiness zone 6a – you may need to make adjustments for your climate.
Starting Seeds Under Grow Lights
Busy, busy…lots of seeds to start this month! Check out my guide to starting seeds indoors. If you need to purchase seed starting materials, check out my Amazon shop.
Sowing Seeds Outside
I love being able to plant these directly into the ground without all of the hassle of indoor seed starting.
Herbs
Legumes (Give them the perfect trellis!)
Beet family crops
Cabbage family crops

Broccoli
Brussels sprouts
Cabbage
Collards
Kale
Kohlrabi (Try purple kohlrabi in the edible landscape)
Radish
Rutabaga
Turnips

Carrot (Here are my tips for growing carrots year-round)
Corn
Cucurbit family crops
Lettuce
Planting Outside
Planting seedlings outside, whether from my own stash or purchased at a local farmers' market, is one of my favorite ways to get the garden ready for summer.
Herbs
Cabbage family crops

Broccoli
Brussels Sprouts
Cabbage
Cauliflower
Collards
Kale

Celery
Nightshade crops

Eggplant
Peppers
Potatoes
Tomatoes

Perennials

Fruit trees
Berry bushes
Rhubarb
Strawberry plants

Onion family crops
Lettuce
Okra
Sweet potato slips
Swiss chard
3. May Garden Maintenance
Here are some of the maintenance tasks that I try to work on in May.
Mulching & Weeding
They make not be your favorite tasks, but they are necessary tasks!
And that does it for May. How is your garden coming along?
READ NEXT: