Chives are a delicious and useful herb to grow in the herb garden, vegetable garden, and food forest. Here are five benefits of chives in the garden.
This page may contain affiliate links. Please read my disclosure for more info.
The Benefits of Growing Chives
This herb (Allium schoenoprasum) is in the allium family, which includes onions, garlic, leeks, shallots, ramps, and many more.
I love seeing the pop of delicate purple around my yard when chives are in full bloom during late spring. The following are five reasons why I like to grow this herb.
1: They have edible leaves and flowers with a mild taste.
A staple in the culinary herb garden, this herb has an onion scent and a mild onion flavor. It is often used interchangeably in recipes that call for green onions (also called scallions).
Growing up, I remember eating chives on a famous fast food restaurant's baked potato with sour cream. My favorite potato chips—and chip dip—were sour cream and chives.
The things kids can eat without gaining a pound!
Roasting potatoes in chive butter is exquisite. Also, I love the idea to host a potato bar party with chives as an essential ingredient.
The uses for this herb go beyond sour cream and potatoes, however.
Take advantage of this versatile herb in the early spring when its flavor is the most potent.
Add it to salads, omelettes, cottage cheese, and roasted vegetables. There's no need for measuring, just toss a handful of the chopped leaves into whatever you're making to spruce it up.
Savory muffins with kale and chives, anyone?
Chives can also be dehydrated for use throughout the winter, although the flavor will not be as potent. Just chop and dehydrate them at your oven's lowest setting, or in the dehydrator until brittle. In my dehydrator, it takes around two hours.
Did you know that the blossoms are edible, too? I love to trim the purple petals over salads for a pop of color and a hint of onion-y flavor. Check out more edible blossoms to add to your next meal.
Try equal parts chive blossom vinegar and olive oil as your salad dressing. Mmmmm.
2: Chives make a deer-resistant ground cover.
As a clumping, grass-like plant, they're attractive in the edible landscape and can quickly fill empty spaces. Try substituting them for the standard landscape plant called Liriope.
Chives are even deer-resistant and can take occasional foot traffic.
Tired of generic permaculture design advice that you can't apply to your specific goals? If so, check out my Permaculture Design Program and get the tools and support needed to create and implement your own permaculture design.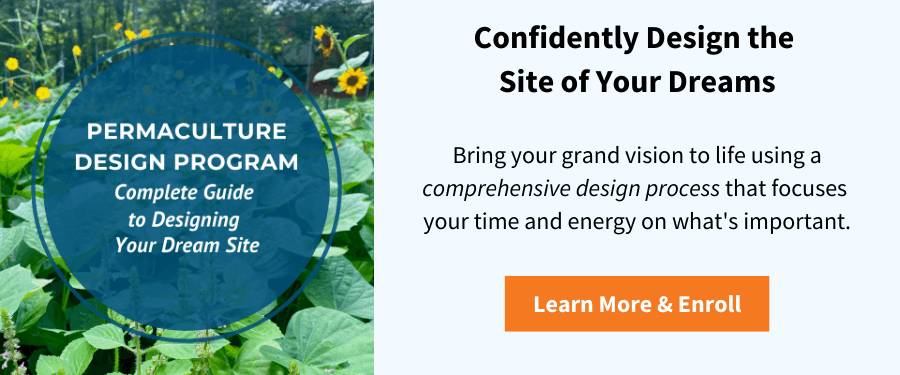 3: They attract pollinators.
As an important, late-spring nectary, chives feed pollinators and attract them to the garden.
In general, it's important to provide food and shelter for pollinators, and I always provide lots of plants for them. In this way, the mini-ecosystem reduces my work in the garden. More pollination means better fruit set.
4: Chives deter pests.
Because of their onion-y scent, chives (and any other member of the Allium family) help repel pests that do not like the strong scent. Try companion planting with chives at the edges of your permaculture vegetable garden as well as under fruit trees.
See: How to Build a Fruit Tree Guild and Planning a Cherry Tree Guild.
Here are some other plants that repel pests as well as some additional tips on preventing pests.
5: They are a good fertilizer.
According to Edible Forest Gardens, chives are a rich source of important nutrients for growing crops. Use the chopped leaves as a green mulch under important crops to fertilize. This is one reason why I plant chives in my strawberry bed or grow them as an understory in the food forest.
Here are more benefits of growing chives.
Ready to Get Growing?
You can see how useful this herb can be the garden, in addition to being a delightful culinary herb. This perennial herb grows best in USDA hardiness zones 3-9.
Pick up some plants at your local garden store, or grow them yourself. They're really easy to grow from seed! Here are some more details on growing chives.
Once you have chive plants growing, let the flowers go to seed and you'll find surprise chive plants around your yard for years to come. Alternatively, let the seed heads dry, and collect the seeds to sow them where you'd like.
What's your favorite reason to grow chives?
READ NEXT: