It's fall! Whether you planted a fall garden or are putting your garden to bed for the winter, there are plenty of tasks to keep you busy in October.
This page may contain affiliate links. Please read my disclosure for more info.
In the September garden, we prioritized harvesting, preserving, and seed saving.
This month, we will continue to harvest, preserve, and save seeds, while maintaining active gardens, putting inactive gardens to bed for the season, and planting garlic and fruit crops.
Need more tips? Check out how to have a productive fall garden, as well as my Year-Round Gardening Calendar.
Following are some ideas for how to prioritize your activities in the October garden. These tasks are based on my gardening in USDA hardiness zone 6a. You may need to make adjustments for your climate.
1. October Harvest
First and foremost harvest what needs harvesting. You've worked so hard to grow things–now it's time to capitalize on that work!
Harvesting Cool Weather Crops in October
Beets & beet greens (Here are my tips for harvesting beets plus a ton of beet recipes)
Brassicas

Broccoli
Collards
Kale
Kohlrabi
Radishes
Rutabagas
Turnips (Greens are super tasty, too)

Carrots
Celery
Lettuce
Onions (Cure for 2 weeks before storing)
Potatoes (Also cure for 2 weeks before storing)
Peas
Spinach
Swiss chard
Harvesting Warm Weather Crops in October
Grow a garden that's both productive and manageable with my Complete Garden Planning System, which includes practical tools for planning your season from seed to harvest.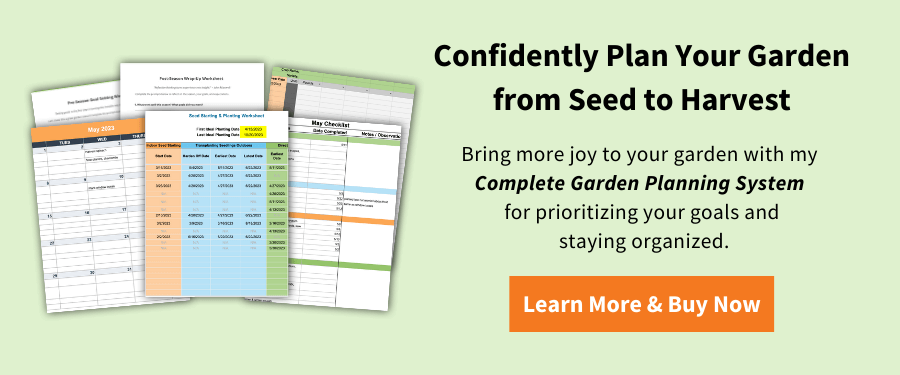 Harvesting Herbs in October
Harvesting Perennial Crops in October
Apples
Figs
Grapes
Pawpaws (Asimina triloba)
Pears
Quince
Strawberries (everbearing)
2. October Planting
Here are the planting and planning tasks that help me stay organized this month. Don't forget I'm gardening in USDA hardiness zone 6a – you may need to make adjustments for your climate.
Sowing Outside in October
Planting Outside in October
3. October Garden Maintenance
Once the harvesting has been taken care of, here are some tasks to work through to put the garden to bed or prepare for the cooler weather ahead.
Cleaning Up
Cut spent flowers, or leave seed heads to feed the birds through the winter.
Leave vegetable flowers for bees, then save the seed. Here are some other fall flowers I grow for the bees.
Put (non-diseased) dead plant matter in the compost. Cut plants at the base and leave their roots intact.
Remove diseased plant matter and dispose in garbage.
Mulch beds. Here are some mulching tips.
Add soil amendments to inactive gardens with a digging fork. It's the perfect time of year to improve soil.
Extending the Season
Set up a cold frame for fall and overwintering crops. Here are some cold frame tips.
Fertilizing
Cut back herbs and use them as fertilizer.
Pruning
Many varieties of brambles (i.e., red raspberry, blackberry, black raspberry) require a fall pruning. Here's how I prune my black raspberries.
Seed Saving
Watering & Weeding
How is your fall garden coming along?
READ NEXT: